Tally.ERP 9 is a location independent business management tool that enables managers to handle all of their business transactions from a single application. The various modules provided by Tally. ERP 9 are finance, accounting, point of sales, branch management and Payroll. The Tally.ERP 9 software was developed with an intention of aiding businesses to succeed in a controlled and integrated environment. The system doesn't have constraints of location specific logins and is operational on various platforms. It is loaded with a host of tutorials and demonstrations that inspire its users with deeper knowledge of the way the application performs.
The application provides easy access in all respects, including the procedure of a fresh install onto a platform. Despite having multiple options to install, new users find it fairly simple to understand and get on with the tasks. The installation process has walkthrough demonstrations with visual representations that allow users to monitor every step of the installation. It is also equipped with advanced features like the ability to install only the packages, which are necessary for that particular business setting. This flexibility enables business managers to focus on the business aspects of the application, which are relevant to them.
5 Things to Learn
There are quite a few new features introduced with the latest iteration of Tally.ERP 9.
For traders, Tally already possessed features of excise. But Excise for manufacturers has been one of the most anticipated additions to this version. It's currently present in a simple, yet detailed manner.
This software handles, for instance:
Different types of excise duties (Basic and Education cess to name a few.)
Multiple ECC numbers for one company (A company may possess several registered excise stores and also trade in excisable goods)
Several valuation methods (Ad valorem, Ad valorem/transaction value, value based on MRP, Ad quantum etc.). Another important point to mention here is, all these can be present in the same invoice.
Experiencing the flexibility of having different units of measure required for excise reporting and recording transactions.
Keeping statutory records and reporting and returns.
Sequential numbering for all invoices, even though voucher number may differ.
Tax Deducted at Source
In the latest version, the entire cycle of TDS related processes are covered. It begins from generation of a TDS liability right up to discharge and creating its e-file.
Also, in the latest version of the software, the TDS feature has been totally reimagined with new features introduced such as:
Ability to deduct TDS along with liability recording (as a result of purchase or procurement of services) in a single voucher.
One may also opt for creating the TDS liability periodically.
Now, there is no requirement to generate different ledger for payments that may or may not be related to TDS. The same ledger can be used for either purpose.
Some additional features such as payment for NRI's are also possible.
Payroll Statutory Reports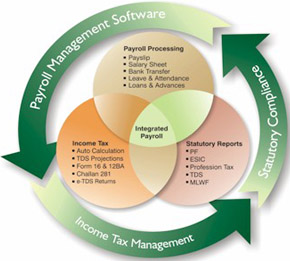 This newest firmware now includes nearly all the ESI, PF and Professional Tax forms and reports that are required for submission to required authorities. This was another highly anticipated feature for this software.
Inventory
You control the restocking and outflow of products through this module. Inventory is usually not needed for firms that provide non-tangible goods (For example consulting, freelance writing).
These are created to record future inventory that has been ordered but not received.
Design Overhaul
After years of continuing with the same dull user interface, this new version now boasts close to 30% more screen to display excess information. One can achieve this through a 'hide/reveal on demand' information panel. This panel keeps the user updated regarding the current version and also notifies the user if there is a newer version available for download from Tally support.
With all these new features from Tally, it has certainly raised the bar when it comes to comprehensive accounting and has solidified its position as the top business accounting software in the entire world.
Tally accounting software equips you with an effective solutions to your real-life business problems. With Tally, you have one software that can take care of most, if not all of your most important business needs, namely:
Simple Accounting and Management
Maintaining records
Payables & Receivables
Print cheques etc.
It can help you manage finances for multiple companies or even locations, easily handle multiple currencies, day to day transactions, daily end of day balances, cash flow and interest. The latest version of this software has created new horizons for itself by incorporating some key important features that are quite useful whilst being user friendly.
Many small, medium and even big sized businesses globally resort to Tally for their daily smooth business functioning and this number has now surpassed several millions.